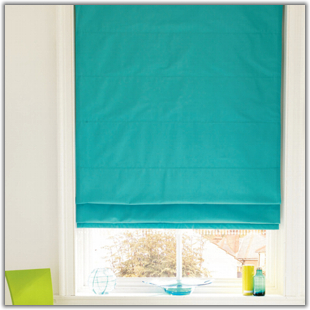 Roman Blinds in Cork
We have recently added a discount range to our Roman Blinds and all Roman Blinds come fully lined. Our discount range is available with the same options as our regular Roman Blind range, so can be specified with a chain or cord & cleat operation and also with regular sateen lining or with blackout lining. All our Roman Blinds are made-to-measure to your chosen fabric and specifications. They can be made to fit inside or outside the window recess; the choice is yours. Roman Blinds are very neat when fitted inside the recess but can be fuller and more decorative when fitted outside the recess. If you have 'tilt & turn' windows that open into the room, then you will have to fit your blinds outside the recess, so the window won't get caught on the Roman Blind, as it opens into the room.
Roman Blinds are made with curtain fabric, and are lined with curtain lining, sometimes 'blackout' lining. Fabrics include, jacquards, linens, patterns, suede effect, and many more, in every colour of the rainbow! As Roman Blinds are made from curtain fabric, it is very unusual to see Roman Blinds and Curtains fitted to the same window. I suppose it is fair to say that a Roman Blind is a form of Curtain so if you have Curtains on your window and you'd like Romans, then you probably need to choose which you'd rather!
Roman Blinds are top fitted and pleat down from the top of the window to the window board. They can be operated by way of a chain at the side of the blind, or by a cord & cleat system, if preferred. The cord & cleat system isn't as good as the chain system however. The cord & cleat system has two disadvantages compared to the chain system:
1). When you want to adjust the height of your blind, you have to hold the pull cord with one hand and wrap the remainder of the cord around a cleat (fixed to the wall), with your other hand.
2). Every time you adjust the height of your blind, you then have to manually adjust the level of the bottom of the blind.
Because they are made with curtain fabric and because they are lined, Roman Blinds are visually very rich and warm. As they are usually fitted within the window recess, Roman Blinds are seen as a 'minimalist' alternative to curtains as they do not dress the window as fully.
At The Blind-Maker we offer made-to-measure Roman Blinds in every shape, size, and design to complement your decor and your room. Visit our showroom in Cork and browse our collection of Roman Blind fabrics for yourself, and remember - we will not be beaten on price and quality.